Volunteers and Donations that make a Difference at Joseph Howe Elementary School
Irving Shipbuilding employees with Joseph Howe Elementary School Principal Steve Hutchins. From left to right: Allie Jeffrey, Ashley Eisener, Steve Hutchins, Dana Dauphinee
Irving Shipbuilding (ISI) employee volunteers were on-site at Joseph Howe Elementary School to present a $1,000 donation as well as food donations to the school's breakfast program. This initiative is in collaboration with PALS (Partners Assisting Local Schools). Principal of Joseph Howe Elementary, Steve Hutchins has placed a strong emphasis on supporting the breakfast program.
"Many of the children who are attending Joseph Howe Elementary are from families who have a low income," says Hutchins. "Access to healthy food options for students at school helps the family grocery budget last longer. We have many newcomer students and students from existing families that benefit from our breakfast program. Our program has food available all day and it provides for milk for our students at lunchtime. We currently have 300 children in our building and program enrollment is projected to continue to grow."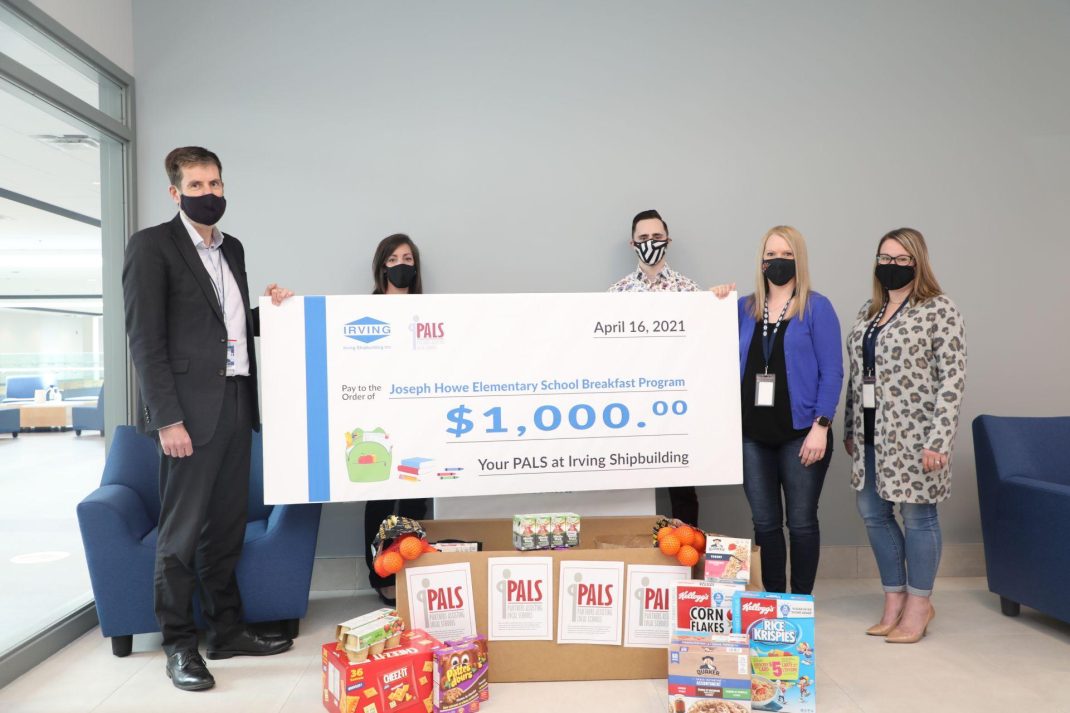 Allie Jeffrey, a technical specialist for the Canadian Surface Combatant program with Irving Shipbuilding led the company initiative to gather food and raise fund for the school. For her, the tie to the school is personal.
"Before my career began at Irving Shipbuilding, I was a teacher for the Halifax Centre of Education. Much of my time was spent at Joseph Howe Elementary School, which proved to be the most rewarding period of my teaching career. During my time there, I saw how beneficial the breakfast program is for students to start their days with a healthy breakfast," says Jeffrey. "I have such fond memories at this school and working with many wonderful students and families and wanted a way to give back to the community. I am so proud to work for a company who supports these types of initiatives."
Great volunteers are what make the breakfast program possible. Kate Macleod, an Educational Program Assistant at Joseph Howe Elementary, has been a volunteer for the breakfast program since she started with the school. Kate witnesses the impact and benefits of the program first-hand every day.

"If children are coming to school with empty bellies, their bellies can become full thanks to the breakfast program. The program gets them ready to start their day. It makes them better learners. This is my fifth year at Joseph Howe Elementary and this is where my heart is. I am happy to be a part of the breakfast program."
The breakfast program relies on community support to keep cupboards stocked and students fed. "We've got some wonderful community support - including this donation of food and funds from Irving Shipbuilding," says Macleod. "We couldn't do this without them." As enrollment is projected to grow, so too will the need for donations.
Kate's shirt is another great example of strong community support. "These shirts are being sold at the Sunny Side Mall in Bedford and online. It is another wonderful showing of support from our community. Our grade two students designed the picture with Jessica Bowden from TeensNowTalk, and for the month of April, a portion of the proceeds go towards our breakfast program." A young boy who was accompanying Kate Macleod for our interview was quick to articulate his exciting experience brainstorming with Jessica Bowden.