Innovation and Modernization
SHELBURNE SHIP REPAIR AND FLEETWAY COMPLETE SUCCESSFUL REMOVAL OF ENGINES FROM CCGS CORNWALLIS
Complex work re-engineered to improve both safety and task timeline
A key component in the most complex work package ever for Shelburne Ship Repair, the three existing main propulsion engines were safely and successfully removed from the Canadian Coast Guard Ship Cornwallis, a 35-year old multi-task vessel with light icebreaking capabilities.
Teaming up with Dartmouth-based Fleetway Inc., Canada's largest marine engineering firm, a large opening was cut in the side of the ship to access the 96,000 pound engines. They will be replaced by modern and more efficient engines and generator sets in the coming weeks.
Alan Stewart, General Manager of Shelburne Ship Repair was extremely proud of the team for their safe execution of the engine removals. "As we prepared for this major effort, everyone worked together to identify the safest and most efficient way to carry out the task, and through that collaboration we determined a better process that reduced risk and made the move more streamlined," said Stewart.
The team switched from the original plan of mounting the engines on blocks and sliding along rails to a new approach that used a steel cradle for lowering and lifting of the engines.
Fleetway Managing Director John Newton said the comprehensive Cornwallis work package required an innovative approach that has drawn from across the wide range of skillsets from the Fleetway team. "These engines were never meant to be removed, so the engineering also had to account for the new weight of the smaller and lighter engines to ensure the vessel's centre of gravity and handling remained consistent for the captain and crew," said Newton. "Taking a vessel from its original design and converting it to modern technology and new mission assignments is a challenge every Fleetway employee looks forward to, knowing we can help keep Canada's fleet viable and responsive to today's and tomorrow's needs while helping maintain the safety of our community members who work in the marine sector."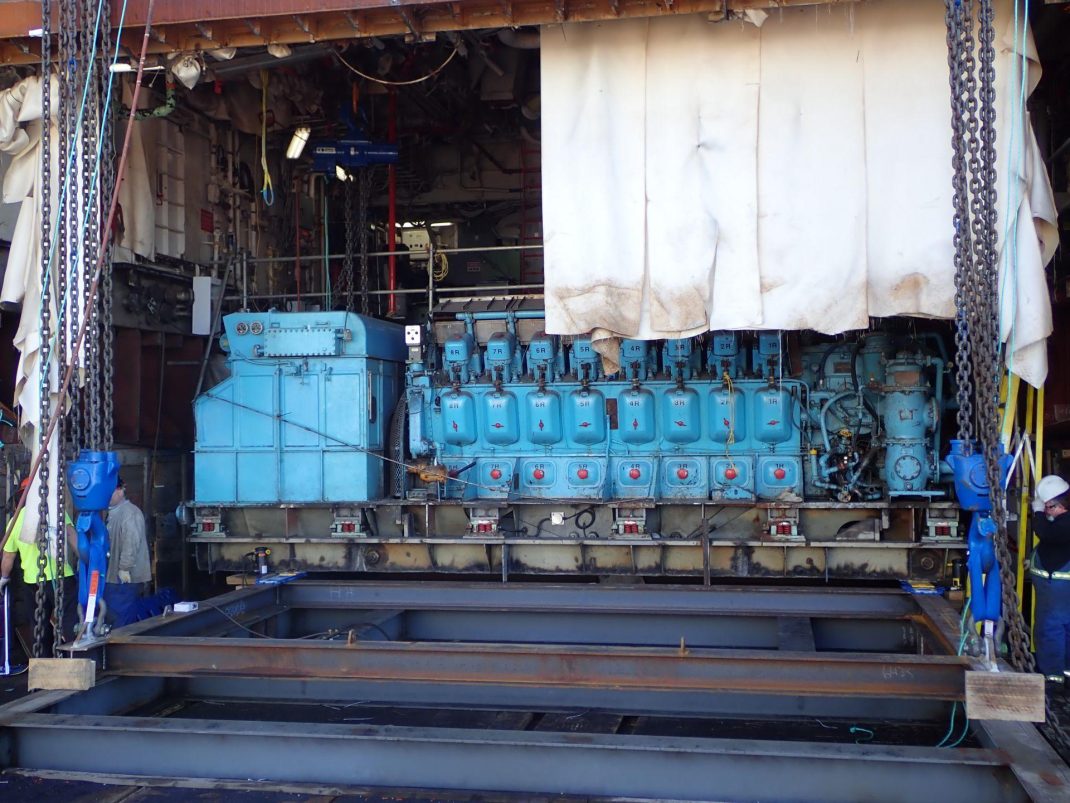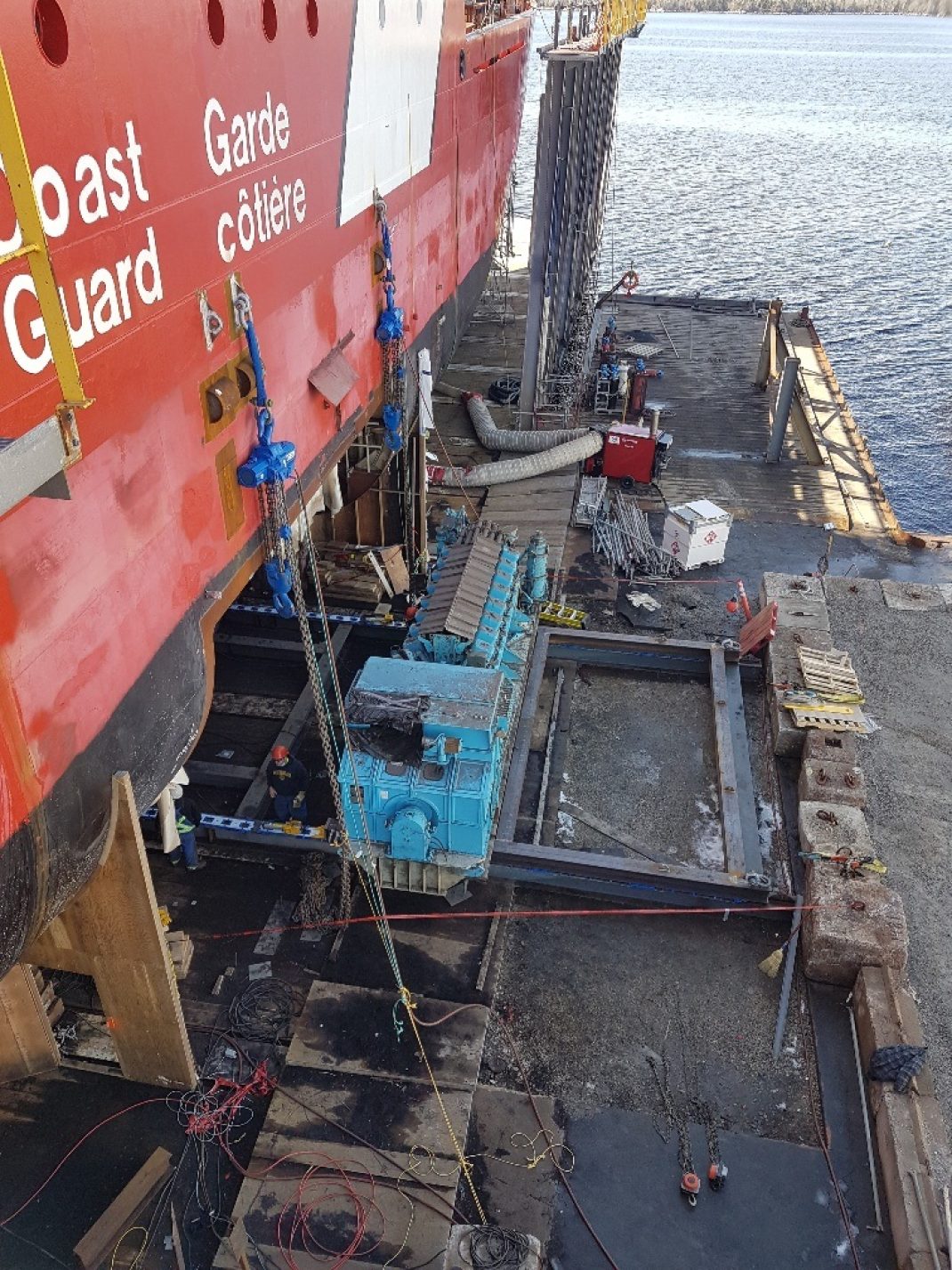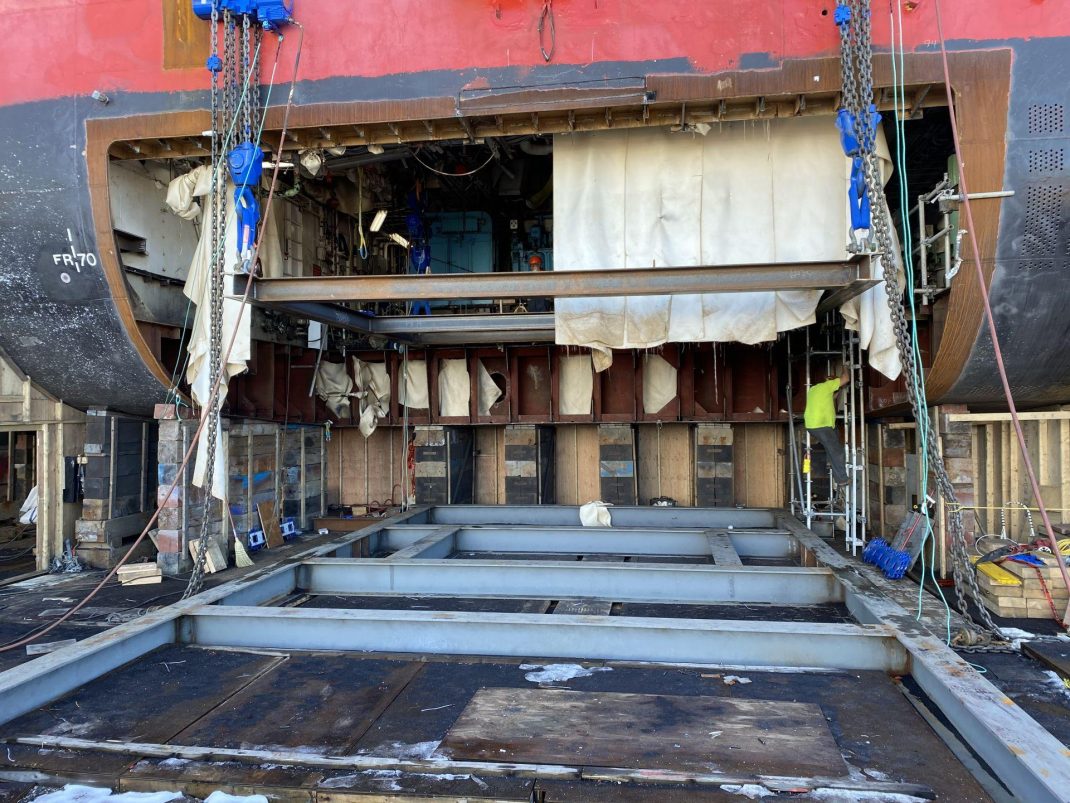 The work package on the Cornwallis is part of the National Shipbuilding Strategy to revitalize Canada's fleets and has provided 55 jobs for Shelburne Ship Repair in highly skilled trades carrying out very technical work, including:
The installation and completion of new cyclo-converter systems
The removal of the obsolete conventional deck crane and derrick system to be replaced with a new buoy handling crane
The removal of the bow thruster and tunnel, and the installation of a new thruster
Relocating the Forward Mast
Tail shaft removal and machining
In addition to the current work on the Cornwallis, Shelburne Ship Repair is preparing for work on HMCS Glace Bay to begin in early April, followed by work on the historic CSS Acadia beginning in late May.