"Recognition, Resilience and Resolve": One Vietnamese family's journey by boat to building ships for Canada
The welcoming and resettlement of many thousands of refugees from Southeast Asia in the late 1970s and early 1980s represents a turning point in the history of immigration in Canada. It was the first time that the Canadian government applied its new program for private sponsorship of refugees — the only one if its kind in the world — through which more than half of the Vietnamese, Cambodian and Laotian refugees who came to Canada during this period were admitted. – The Canadian Encyclopedia
After the Vietnam War ended in 1975, life in Vietnam was dire, oppressive, and in crisis with warfare, political and economic turmoil. Almost one million people are estimated to have escaped Vietnam by sea on makeshift vessels - the "boat people"
In her own words, Linda Tran-Blanchard, Engineer at Irving Shipbuilding, shares the harrowing and heroic story of her family's journey that brought them to Canada.
---
My Maternal Grandparents' Story
Thiem Au (grandfather) and Nu Ngo (grandmother).
In April 1979, my grandparents fled South Vietnam with 9 of their 10 children, daughter-in-law, and baby granddaughter.
Boat Journey
My grandparents, aunts and uncles were among the nearly 430 people crammed on a 20-metres long boat. Within the first few days, the boat was robbed by pirates. Fortunately, the pirates took only food and meagre possessions; no one was harmed.
On the fifth day of the journey, the main boat engine broke. The backup engine emitted black smoke within hours of use, leaving the boat at a standstill in the middle of the South China Sea. Risking his life, my grandfather jumped into shark infested waters alone to investigate. With his mechanical background, he had suspected that the propeller blades were too long. Thanks to my grandfather's technical guidance and bravery, the boat's crewmen were able to modify the propeller, enabling the boat to run another two days.
On the seventh day, the boat came across an oil drilling platform from the Netherlands. The platform's crew saved them by providing food and water and arranging a supply vessel to transport everyone to Malaysian refugee camps. Three people died during the boat journey.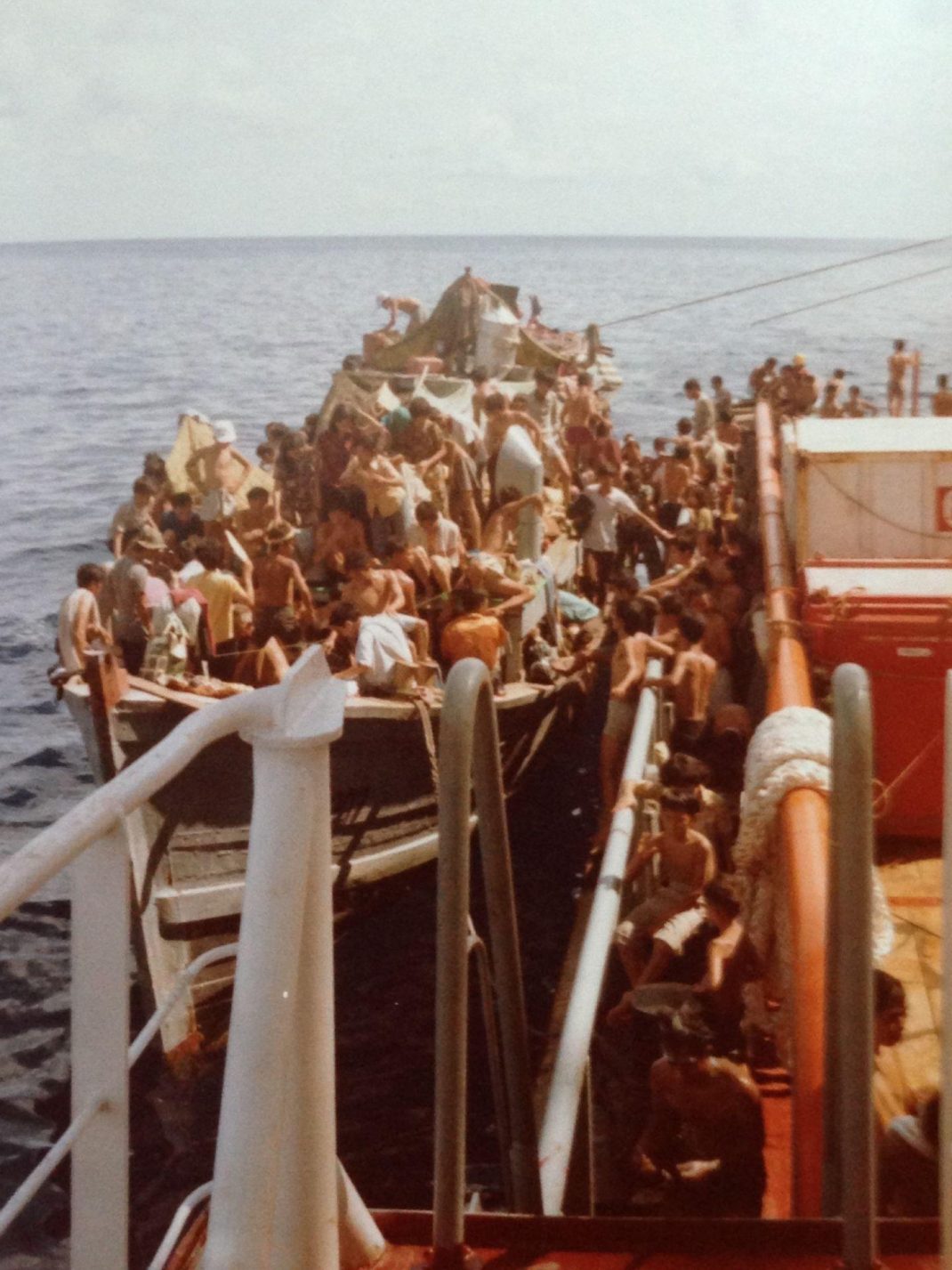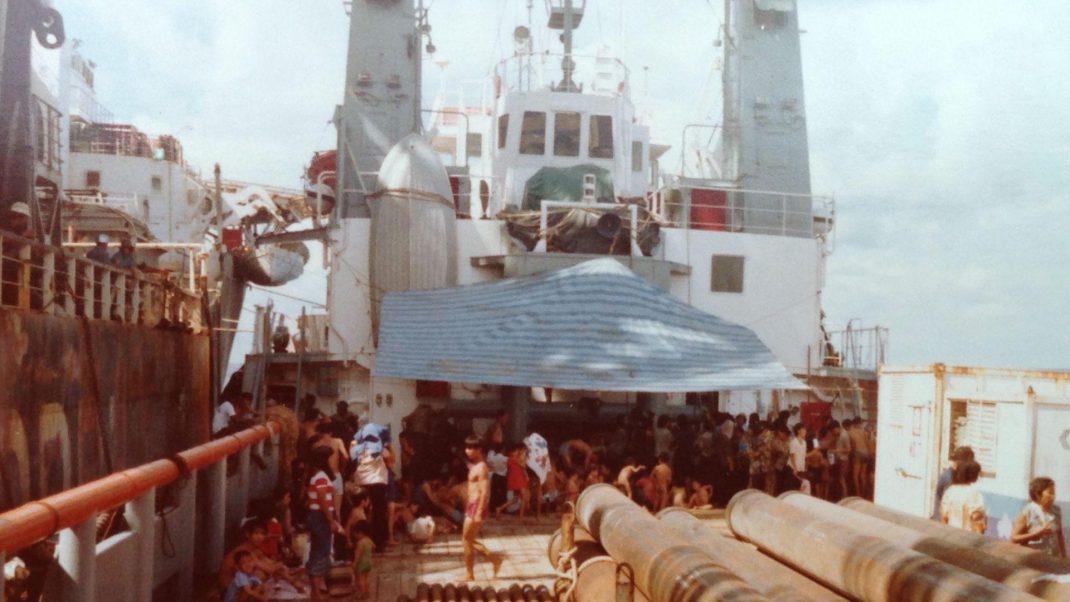 Refugee Camps

My grandparents and family stayed at two refugee camps - three weeks in Mersing Island and four months in a United Nations camp in Bulo Tengah Island.
Sponsorship
In September 1979, my grandparents and family arrived in Charlottetown, Prince Edward Island under the sponsorship of St. Pius X Parish.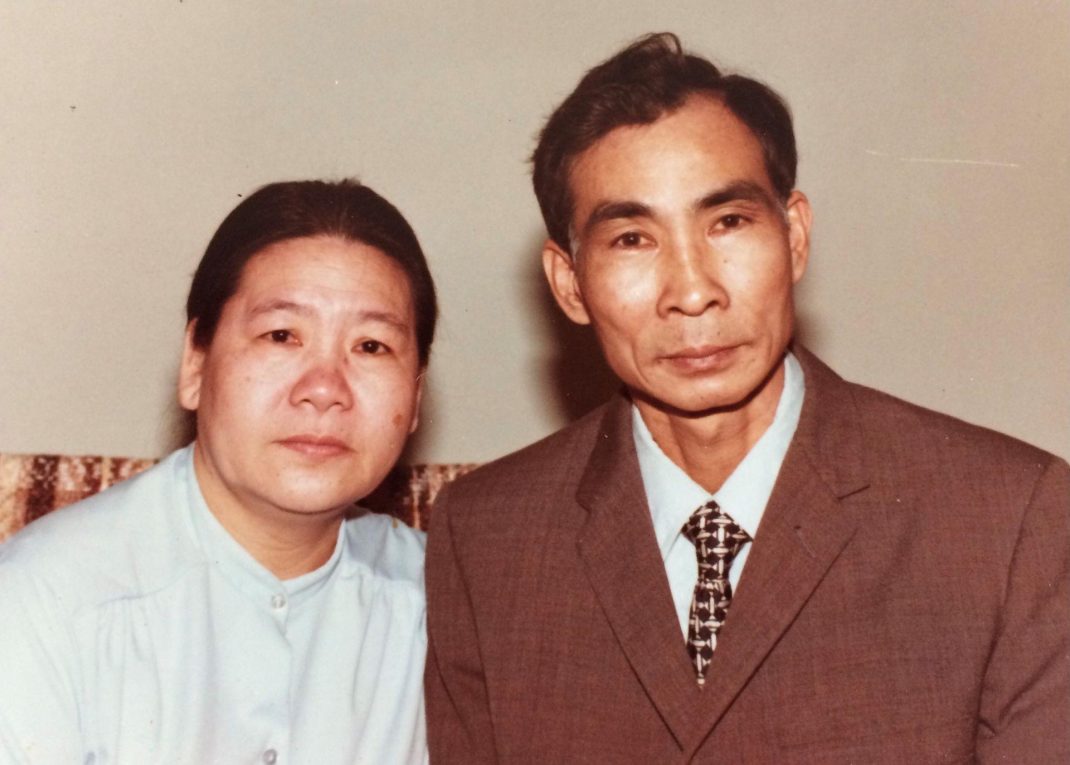 In the 1990's, my aunts and uncles left Prince Edward Island to attend university or moved to Ontario to find work. In 1992, my grandparents joined them in Ottawa. They reside there today.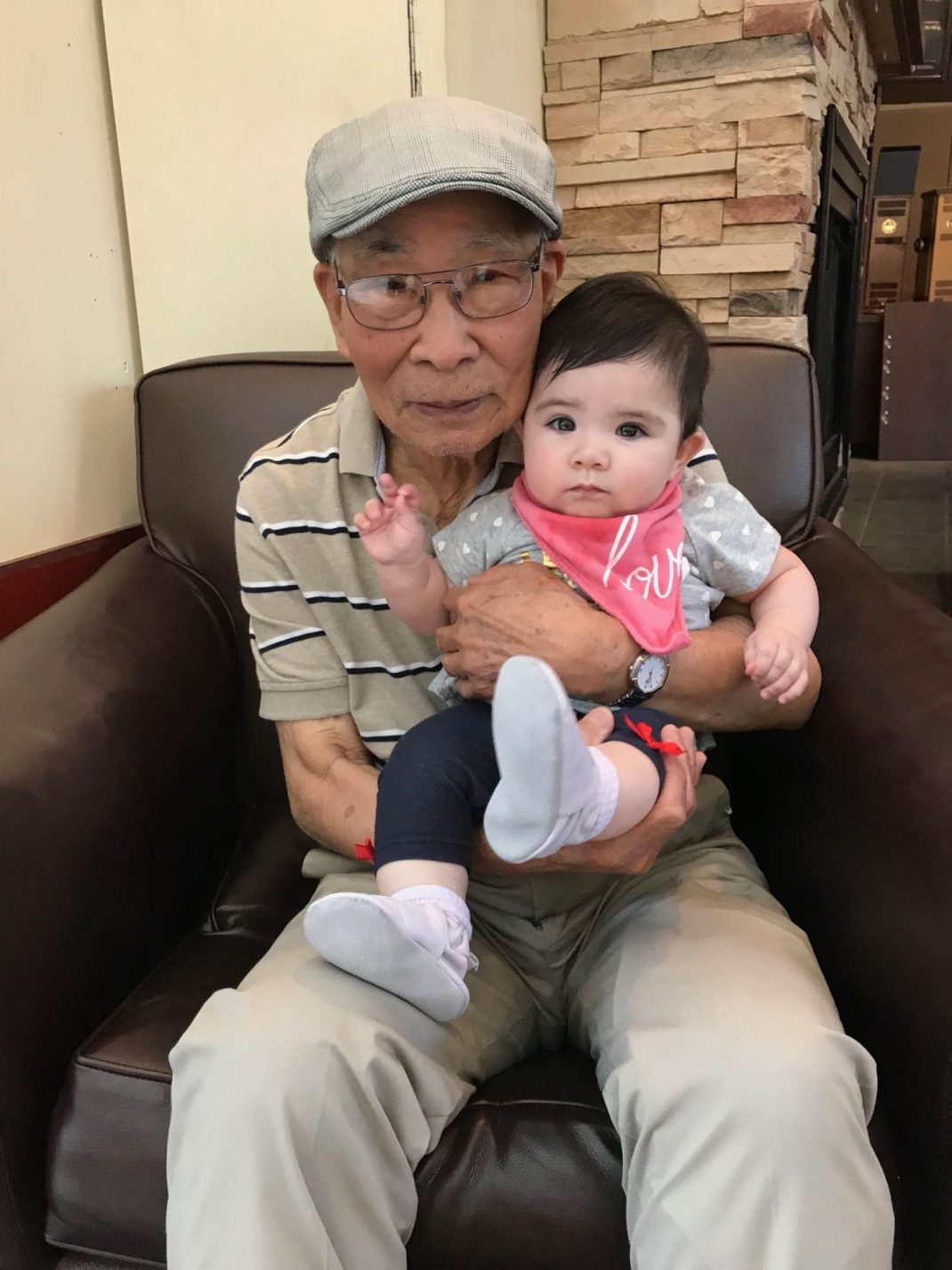 ---
My Parents' Story

My family were all born in South Vietnam: Tung Lam Tran (father), Helen Au Tran (mother), Pauline Tran-Roop (sister), Kimberley Tran (sister), Linda Tran-Blanchard.
Journey to Canada
In May 1979, my father was captured by the Vietnamese government and imprisoned for 16 months for planning my family's escape. My mother saw my father twice during this time - once at 14 months and shortly before he was released. During this time, my parents endured great hardship.
In 1982, my maternal grandparents, supported by my aunts and uncles, started the paperwork to sponsor us to come to Canada.
On April 4, 1986, the Tran family arrived in Charlottetown, Prince Edward Island. Our first meal was chicken from 'Kentucky Fried Chicken' (KFC). To this very day, every April 4th consists of a KFC meal in celebration of "Tranada Day".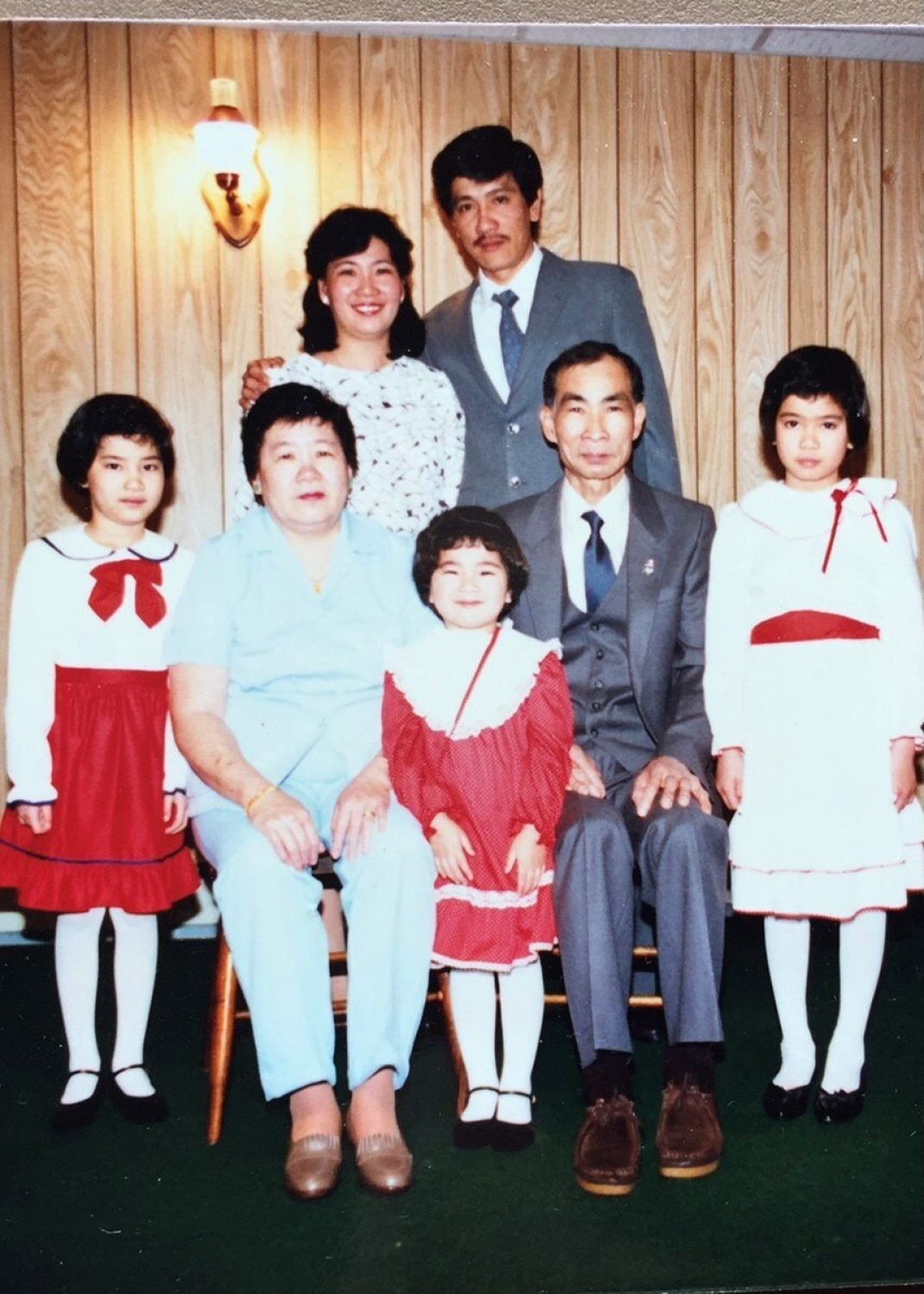 ---

Life in Canada

My parents had limited education in Vietnam; my mother left school at grade 8 to help my grandfather run his photography business and my father has a high school diploma.
My father started as a dishwasher and later became a cook at a local Chinese restaurant, Canton Café. My mother worked at a local factory, gluing leather pieces to eyeglass frames. The job enabled her to work from home so she could look after me. She later joined my father at the Canton Café as a waitress. Before I started school, my parents tried their best to coordinate their shifts so that at least one could stay home with me. When this was not feasible, I would spend hours at the restaurant watching my father chop cabbage for eggrolls.
In 1990, the Tran Family became Canadian Citizens. In 1996, my parents became part owners of the Canton Café. They worked 7 days a week (double shifts on weekends) apart from Christmas Day, until they sold the restaurant in 2015. Today, my father works at a local Vietnamese restaurant and my mother works part-time at a local furniture store.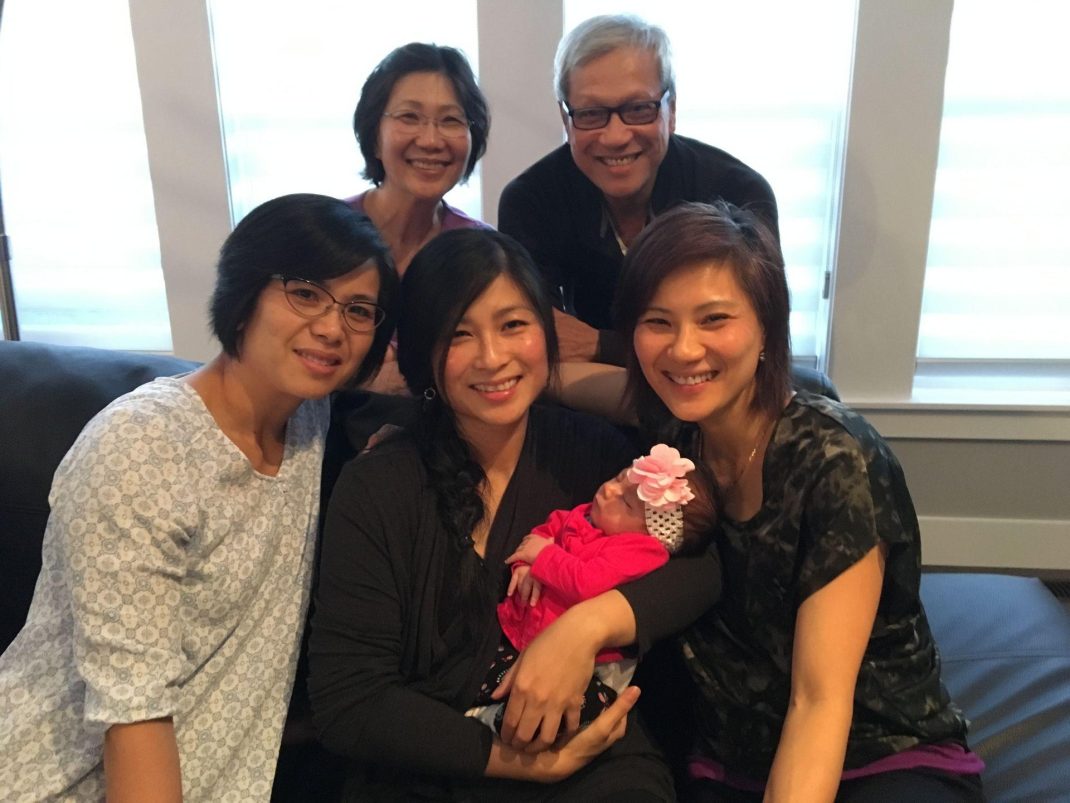 The Tran Sisters
Pauline Tran-Roop (bottom left)
Pauline is a Pharmacist working in community pharmacy and as an immunizer for NSHA and is also a coordinator at Dalhousie College of Pharmacy for Continuing Pharmacy Education and second year Problem-Based-Learning (PBL) Curriculum.
I credit my eldest sister, Pauline, with raising me. She sacrificed a lot of her latter childhood years so that she could look after my sister Kimberley and me while my parents worked.
Pauline is currently a candidate for a Master's in Education at Acadia University. She resides in Halifax, Nova Scotia with her husband and three children.
Kimberley Tran (bottom right)
Kimberly is an economist and tax-wealth planning consultant. She received her Master's in Economics from Dalhousie University. She resides in Ottawa, Ontario with her partner.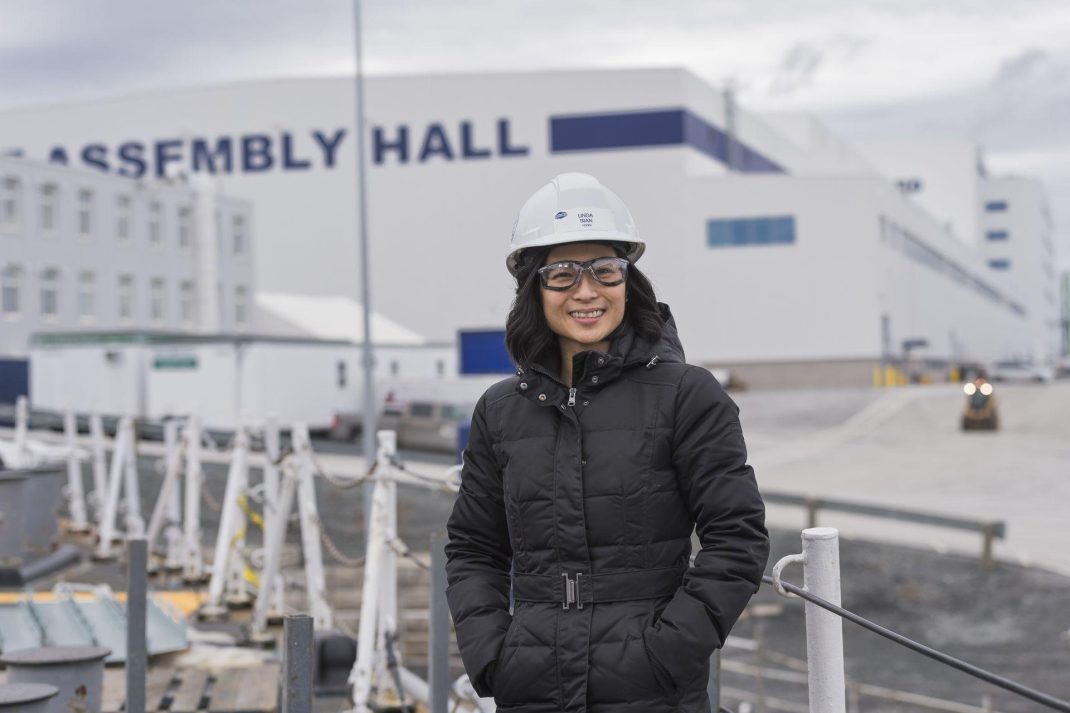 I now marvel at my parents as they began life in Canada with limited education and English. It was very humble beginnings. I like to think I am giving back in my work to build the best ships for those who serve our country in the Canadian Navy. Now a parent myself, I appreciate the huge sacrifices my grandparents, parents and eldest sister made. The kindness of Canadians gave my family a whole new life for which I am very grateful.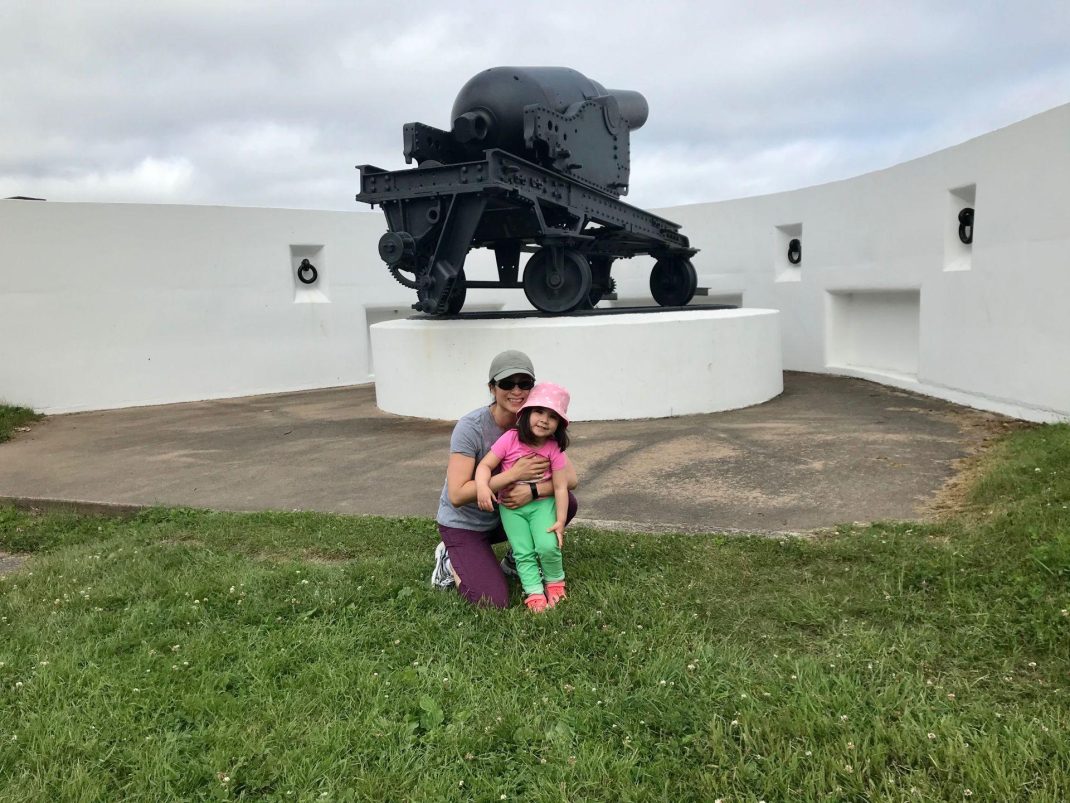 ---
Folks like Linda Tran-Blanchard and her family demonstrate "Recognition, Resilience and Resolve", which is also this year's theme for Asian Heritage Month in Canada. These qualities, along with the unique and varied experiences of our team, make us stronger as we build Ships for Canada. Irving Shipbuilding thanks the Au and Tran families for sharing their stories.

To learn more about Asian Heritage in Canada and the many contributions of Asian Canadians visit:
https://www.canada.ca/en/canad...