Krista Langille was well into her professional career when she realized she needed a change. What she didn't realize was that she would be embarking upon a journey that would change her life, and ultimately allow her to change the lives of others.
Though comfortable in her office job, Krista knew she wanted something where she could challenge herself and work with her hands. So, at the age of 35, she took a leap into the unknown, enrolling in the Women Unlimited Career Exploration Program, a free 14-week program that gives women the opportunity to explore their interests in the trades and technologies.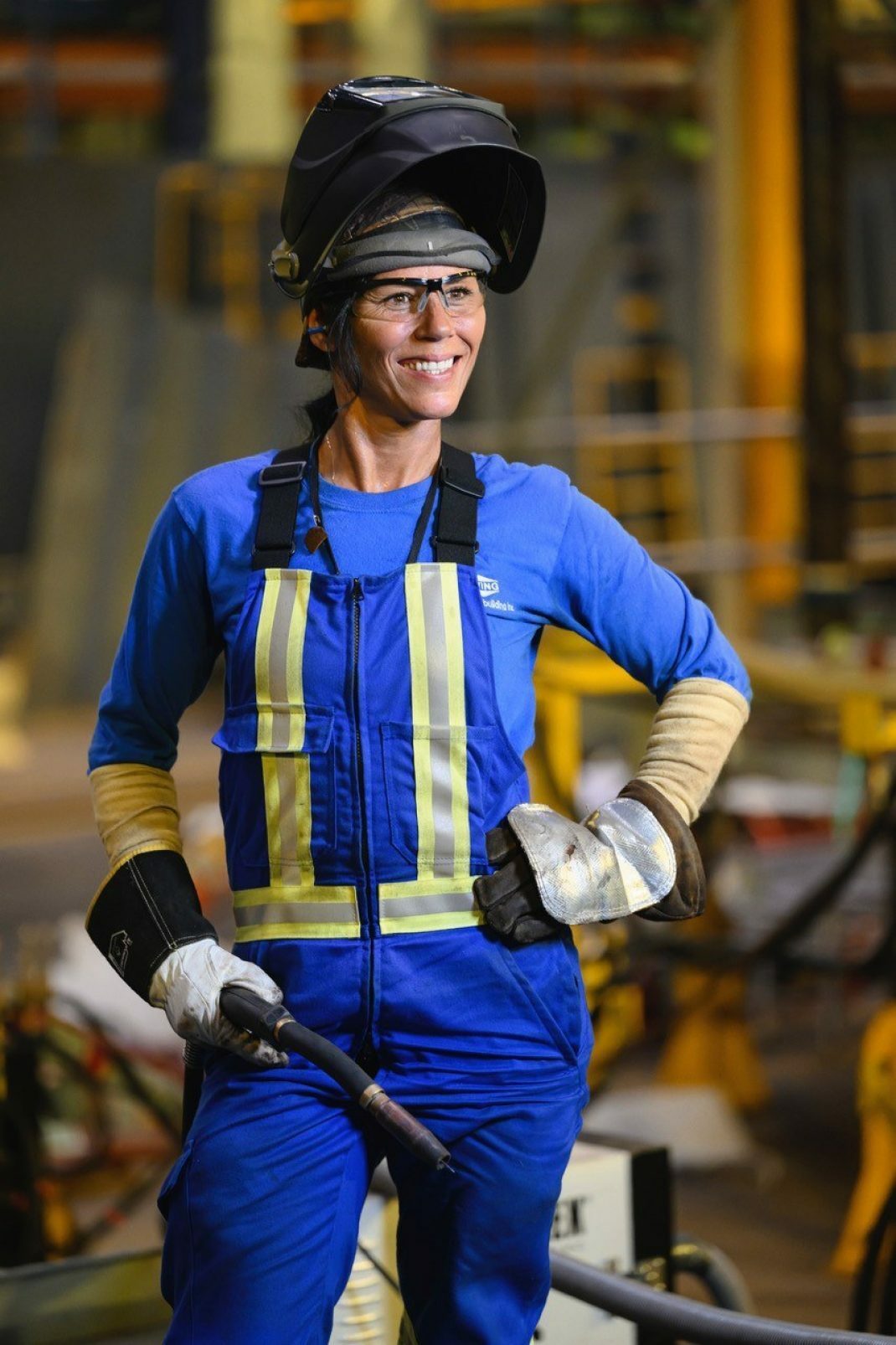 "When I started the program, I thought there was no way I would continue with two additional years of education. It was just too long," says Krista. "But after trying all the trades, I knew that welding was for me. It didn't matter what I had to do; I knew I had found my career."

Krista dedicated herself to her education, completing her welding diploma at Nova Scotia Community College and graduating with honours. Her commitment continued after graduation, as she worked "weekends, any time I could" to achieve her Red Seal and become a Journeyperson Welder.

She attributes her success to Women Unlimited, noting that the organization's support was critical for her as the mother of two young children taking on a new challenge.

Before joining Irving Shipbuilding, Krista taught welding at a high school, inspiring the next generation of skilled tradespeople. She also led an outreach program for girls in Grade 9, teaching them about a career they never knew was possible.
"It was important for me to have everything the girls would need to let them try welding. I had hair elastics, coveralls – I tried to think of it all. They had no clue about welding or trades, so my goal was to introduce them to a career they would never have considered."
Krista notes with pride that many of the girls from the outreach program continued their trades education, signing up for welding as they entered high school the following year.
Krista brings her passion for teaching others to Halifax Shipyard where she works closely with apprentices on her crew building ships for Canada.
"I am most excited about learning, teaching, and mentoring others," says Krista. "I love helping people who are new to welding or new to the company feel comfortable and learn more about what we do. At the same time, I'm always learning too. If I see someone do something better than I've done, I want to watch, I want to learn. My learning and development never stops, and I know I can learn from anyone."
Krista also continues to support women in trades through her relationship with Women Unlimited. "I'll still go in and talk to groups and tell my story," she says. "I provide encouragement and support. You never know what somebody's life is like and what a difference some encouragement can make."
Now having recently celebrated her second anniversary with Irving Shipbuilding, Krista is proud of how far she has come and excited about the future.
"Joining Irving Shipbuilding was one of the best decisions I've ever made. I love coming to work in the morning. I love where I work."