HALIFAX SHIPYARD RESPONDS TO ERRORS IN CBC NOVA SCOTIA STORY
Earlier today, CBC Nova Scotia ran a story about the sea trials for HMCS Margaret Brooke (AOPS 2) that begin tomorrow. We are disappointed that CBC did not provide accurate information and correct facts to its audience. We want to make sure the correct information is shared. Sea trials are an important milestone and the result of the skill and dedication of so many of our talented and dedicated employees. The most important priority in everything we do is the health and safety of our employees as well as all other supporting personnel. The embarkation of all sea trials personnel has been closely coordinated and approved by the Nova Scotia Health Authority as well as our internal ISI Health and Safety Committee, which includes participation of union and staff personnel.
Below are some clarifications we have sent to CBC, which hopefully will clear up any concerns.
1. The headline "78 employees visiting from various countries" is inaccurate. The majority (70) of the passengers are Nova Scotians.
2. There are 8 people from outside the Province on Board the ship who have ALL received the required approvals and have/are following all COVID-19 health and safety protocols. No exemption was required for the Atlantic Canadians. The table below provides specific details for each of the persons.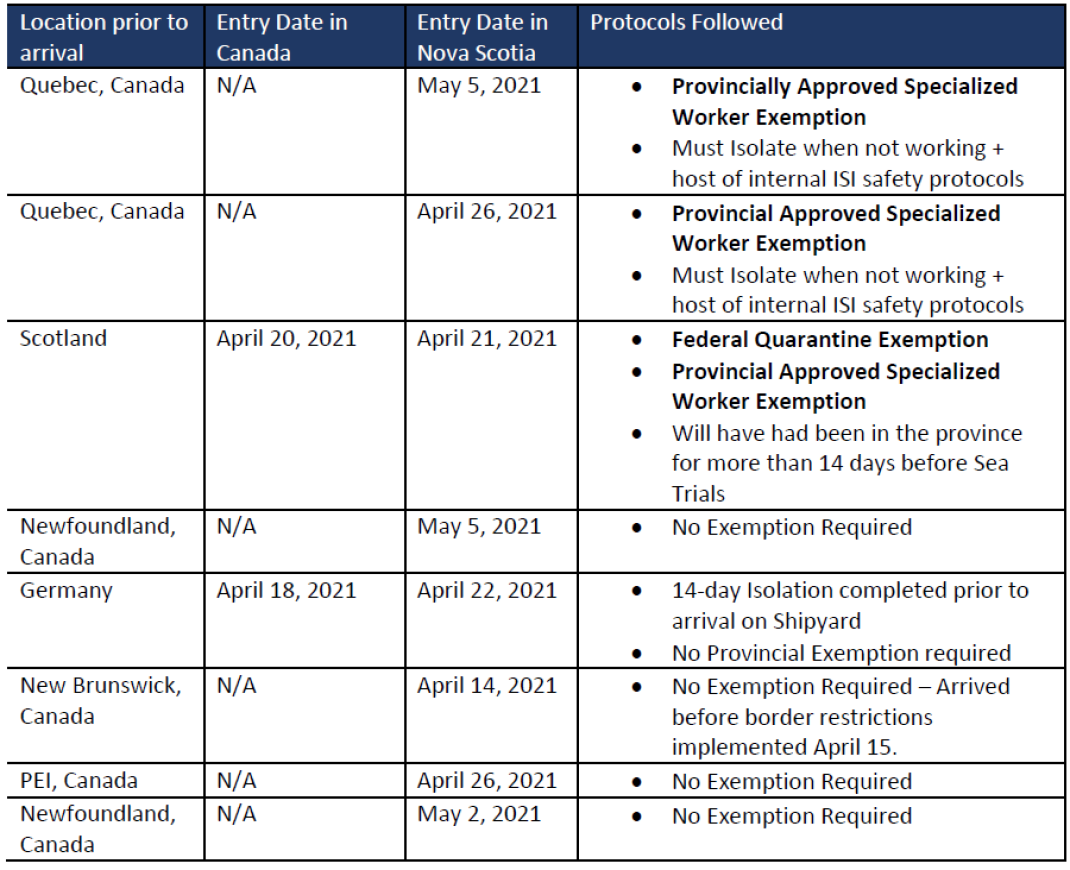 3. A mandatory condition of ALL persons boarding the ship is a negative COVID test.
4. We have worked to reduce the number of people on board AOPS 2 sea trials. The number of passengers is down from the crew (88 passengers) that conducted sea trials for HMCS Harry DeWolf. In addition, there are four passengers who will only be participating in one day of sea trials, reducing the number further. These departing passengers will be tested before leaving the ship by the nurse who is on board for sea trials.
5. Meals in the cafeteria will happen in shifts at identified tables, affording 6 feet of social distancing. Two (2) contractors who have not been in Nova Scotia for 14 days and did not self-isolate must eat their meals in their individual cabins. Meals will be delivered outside the cabin door to avoid interaction with the crew.
6. There will be NO workers from the US, Ontario or Poland as incorrectly stated in the CBC story.