Halifax Shipyard Gives 445 Books to Joseph Howe Elementary
A Book for Every Student to Read Over Summer Vacation, and over 100 for the School Library
As the school year comes to an end, the men and women of Irving Shipbuilding and skilled trades members of Unifor Marine Workers Federation Local 1 are encouraging the young students of Joseph Howe Elementary to keep up their reading skills through summer vacation with the gift of a book to each student. For the past month, the shipbuilding team has been raising funds and exceeded their original target of 325 books.

"We are very thankful for this opportunity to build ties with community partners like Irving Shipbuilding to support literacy initiatives at Joseph Howe School," said Michael MacDonald, Principal of Joseph Howe Elementary School. "We are blessed to have so many brilliant students in our school and know that when our students are provided with the right tools and community support, they will be able to achieve whatever goal they set their mind to. Our school staff works diligently to get to know our students to be able to provide all students with opportunities to excel academically. It really does take a village to educate a child and we know that today's donation of books for our students will make a lasting impact for our Joseph Howe school community."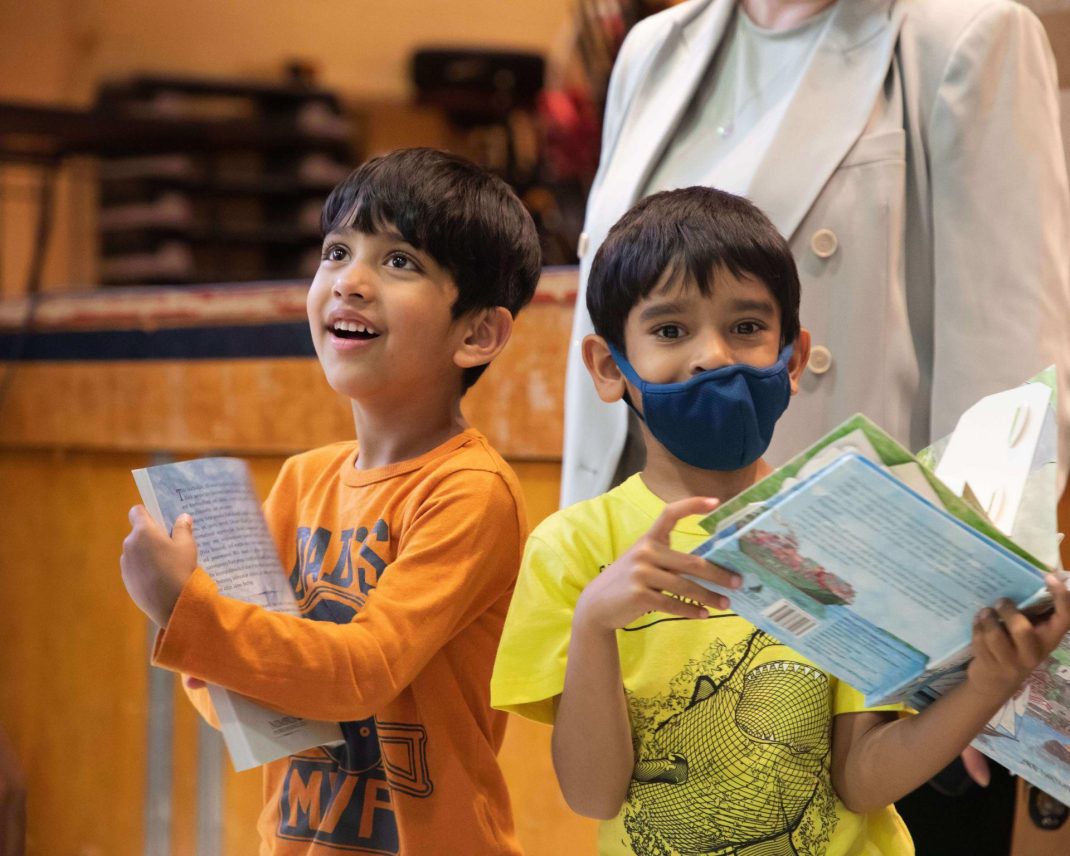 "The school is in our neighborhood, and we had an opportunity to recently visit and meet the amazing educators and leadership of the school," explained Mary Keith, Vice President Communications for Irving Shipbuilding. "We look at this as the first step in a longer-term partnership. With Nimbus Publishing also in our back yard, the project is a win-win-win for the students, local authors, and our hometown publisher. The students were so excited, and it meant so much to our team to be able to meet them and hand out some of the books. We're hoping that some will be future shipbuilders!"
"Seeing the looks and the joy on the children's faces is something I'll never forget," said Shannon Sampson, President of Unifor Marine Workers Federation Local 1. "This is a great initiative. I think it would be great to see some of these same children join the team at Irving Shipbuilding down the road. It would be a really good story to tell."
"We are delighted to work with Irving Shipbuilding to help elementary students read some great local books this summer. In our research here at Nimbus, we are learning young readers are far more engaged when their books relate back to familiar places and people like them. This helps kids feel empowered to create their own narratives and helps encourage them to make bright futures right here in Nova Scotia," Terrilee Bulger, Co-Owner, Nimbus Publishing.