HALIFAX, NS: Today, Avondale Sky's Blanc de Noir (2013) was selected as the vintage to be used in the April 28th naming of the future HMCS William Hall, the fourth Arctic and Offshore Patrol Ship. William Hall was the first Black person, the first Nova Scotian and one of the first Canadians to receive the British Empire's highest award for bravery, the Victoria Cross. Hall received this recognition for his service at the Siege of Lucknow during the Indian Rebellion of 1857. The son of former American slaves, Hall was born in 1827 at Horton, Nova Scotia, where he also attended school. He grew up during the age of wooden ships, when many boys dreamed of travelling the world in sailing vessels. As a young man, Hall worked in shipyards at Hantsport for several years, before going to sea on merchant ships and joining the Royal Navy in 1852.
Shipbuilders at the Halifax Shipyard are currently building six Arctic Offshore and Patrol Ships for the Royal Canadian Navy. These ships are named to honour prominent Navy heroes who served the country with the highest distinction. The naming of a ship is a steeped in history and naval tradition. Dating back centuries, this ritual is believed to bring good luck and safe travel to the vessel and crew.
"Today we are delighted to select a Nova Scotia vintage that was grown a few short miles from the home of William Hall. Avondale Sky's 2013 Blanc de Noir will be used by the ship's sponsor Chief Superintendent Craig Gibson's (Ret'd), a descendent of William Hall and a 34-year veteran of the RCMP, to name the future HMCS William Hall," announced Dirk Lesko, President of Irving Shipbuilding.
"Our team and family are honored to be the selected vintage for the naming of the future HMCS William Hall. We feel a special connection to this ceremony as a Nova Scotia winery near the community of Horton where William Hall was born and town of Hantsport where he settled after completing his military service. We look forward to our 2013 Blanc de Noir being a part of this historic day and take pride in this vintage as it is our most awarded wine to date. We wish the crew of the future HMCS William Hall fair winds and following seas," said Karl Coutinho, President and Operations Manager, Avondale Sky Winery.
"Nova Scotia has a long and proud naval tradition built on a foundation of heroic service by our sailors and service members, and Victoria Cross recipient William Hall is an embodiment of this history," said Kody Blois, Member of Parliament for Kings-Hants. "I am so pleased that Avondale Sky's Blanc de Noir has been selected as the vintage that will be used in the naming ceremony for the future HMCS William Hall.
As we mark the anniversary of William Hall's birth, I can think of no better tribute to honour his service than the naming of this vessel with a celebrated wine from the region which he called home."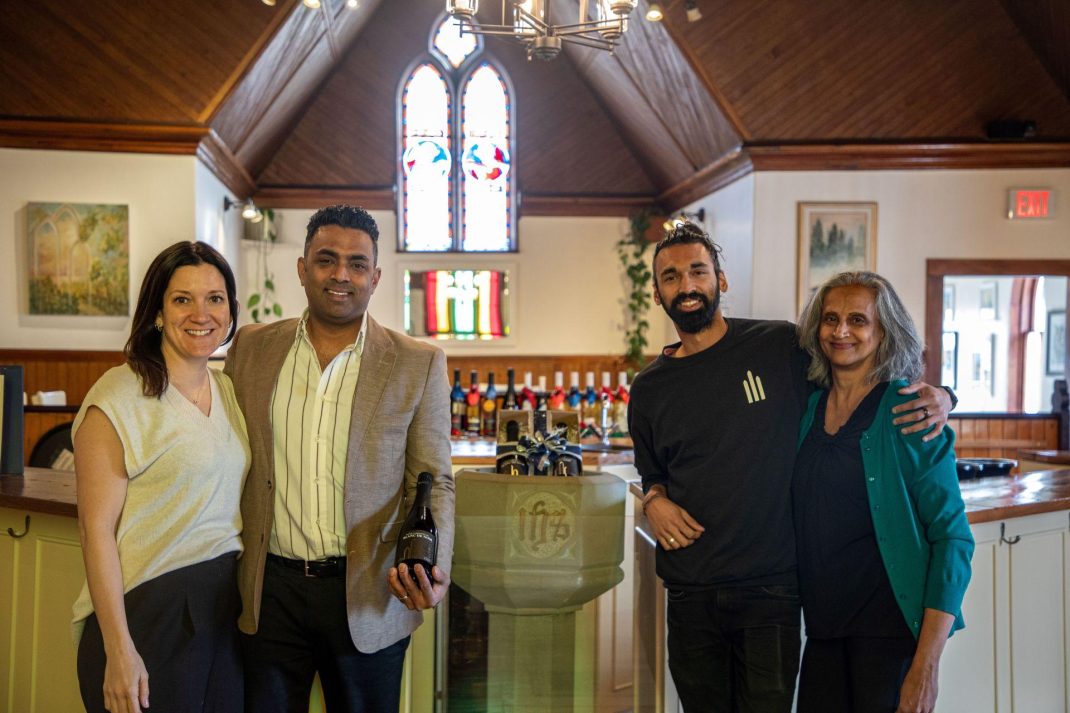 "The Nova Scotia wine industry is honoured to participate in the naming of the future HMCS William Hall after the Canadian hero. Partnering land and sea, Nova Scotia is not only a wine region with the world's highest tides, but our province's wine is grown on an ancient seabed that contributes to a unique viticulture climate and terroir. We are privileged to participate in this ceremony and to all those who serve, we thank you for your sacrifices and we wish for a safe journey home," commented Haley Brown, Executive Director, Wine Growers Nova Scotia.
About Irving Shipbuilding:
Irving Shipbuilding is Canada's National Shipbuilder, selected in 2011 to build the new fleet of combat vessels to the Royal Canadian Navy. To date, three Arctic and Offshore Patrol ships (AOPS) have been delivered and a further three are underway. The company will also build two custom AOPS for the Canadian Coast Guard before commencing the larger Canadian Surface Combatant (CSC) Fleet. To date over $5.34 billion in investments have been made across Canada as part of the National Shipbuilding Strategy. Our team of 2300 shipbuilders are proudly based in Halifax, NS and includes the largest team of apprentices in Atlantic Canada. www.shipsforcanada.ca
-30-
CONTACT: Mary Keith
Vice President, Communications
keith.mary@irvingshipbuilding.com
Office: 902-484-2435 | Cell: 506-650-8209