Innovation and Modernization
Supporting Continuous Learning and Development: Employees Earn Atlantic Business Seal at Halifax Shipyard
Three members of the Irving Shipbuilding Production Resources Team completed the Atlantic Trades Business Seal (ATBS) Program (ATBS), earning their ATBS. Jacob Myers, Shawn McKillop, and Clayton Flint completed the continuing education program for Atlantic journeypersons to advance their business and leadership skills.

All three employees hold Red Seals and began their careers in Shipbuilding in the trades. After several years in production building Arctic and Offshore Patrol Ships for the Royal Canadian Navy, they joined the Production Resources Team which manages work allocation, training and apprenticeship for trades employees.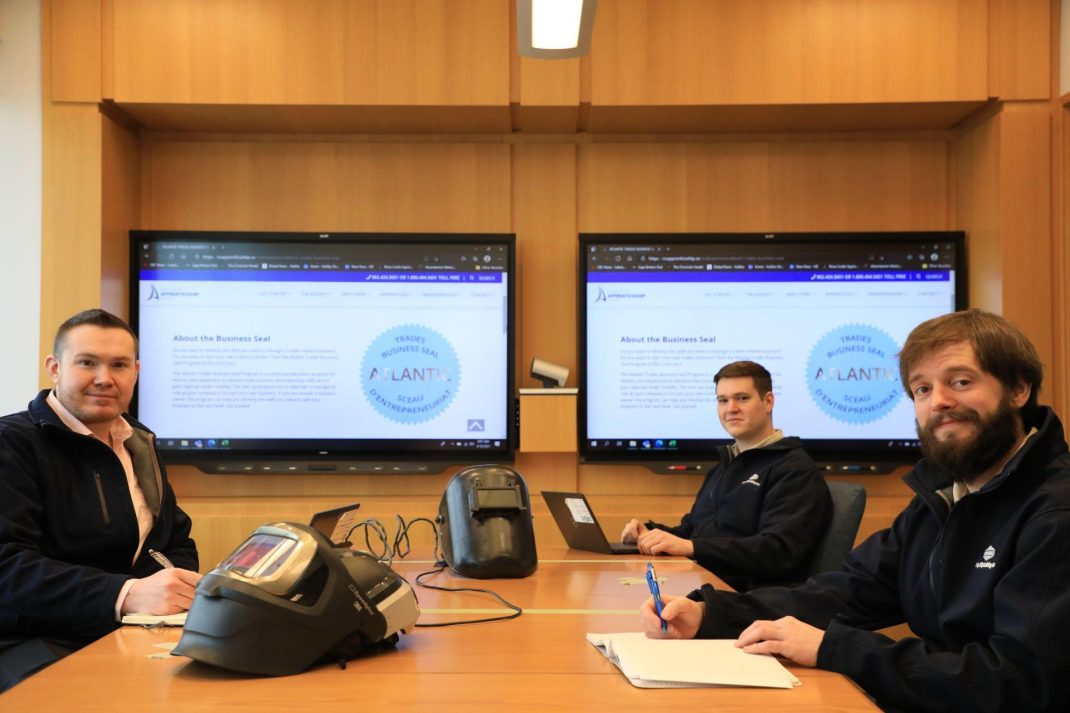 Jacob Myers joined Halifax Shipyard as a Red Seal Welder in 2016. A few years later he moved into Production Resources as a Welding Instructor and has since become a Team Lead. Jacob says that the Atlantic Trades Blue Seal Program offered "an opportunity to develop and continue my education within the industry I love. It's a well-rounded program ranging from Human Resource Management to Marketing, to Operations Management." Jacob's next goal is to earn the Gold Seal Certification.
Shawn McKillop, also a Red Seal Welder, joined in 2017, later moving to Production Resources as a Welding Instructor and has since moved into an Apprenticeship Team lead role. Shawn chose to pursue the Atlantic Trades Business Seal for personal and professional development to better understand how the business operates and because "two seals are better than one!" Shawn is looking forward to applying what he learned through this program to the Apprenticeship Program to help our apprentices fulfil their potential.
Clayton Flint started joined Irving Shipbuilding in 2015 and is a Certified Red Seal Steel Fabricator and Red Seal Welder. After working as an Ironworker, Clayton now works in the Production Resources department as an Operations Trainer. Clayton explained that the "instructors for the course are extremely knowledgeable and shared many stories and experiences from their careers. It really enhanced the whole experience." Having obtained two Red Seals and now his ATBS, Clayton will be looking to further his development by working toward the Gold Seal Certification.
Irving Shipbuilding is proud to support our employees with continuous learning and development opportunities.